Here is an in-depth look at certain topics our class dove into during our first and second semester (paged accordingly). Not only did we discover revolutionary ideas and prominent figures of history, but we also dove into a deeper understanding of what makes us human, how we all relate to one another, and why these ideas matter in the larger scheme of where we have gotten today globally, domestically, and individually.
To learn about my portfolio's theme in relation to these posts, visit the Photography: Blurred Reality on the tab menu above.
To explore my art presentation from the second semester on Michael West and Abstraction, click the link or tab above on the menu.
To dig into Campus Commentaries and learn more about what campus provides outside of this class, click the link or tab above on the menu.
Unit 1: Analyzing Toni Morrison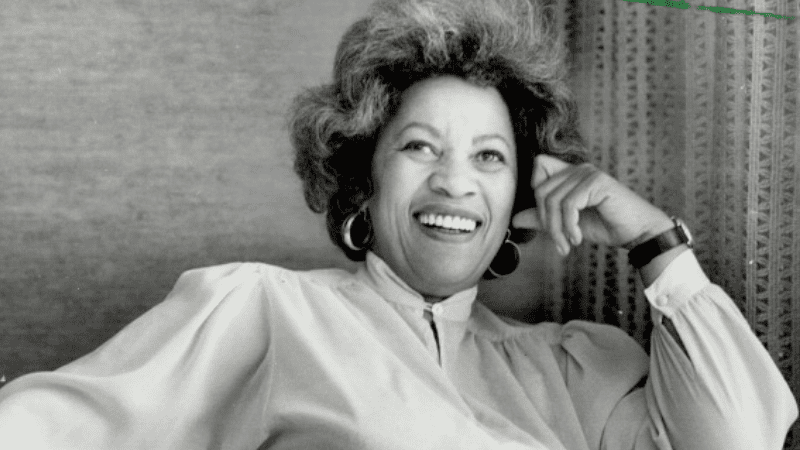 "It would be a pity if the criticism remained too polite or too fearful to notice a disrupting darkness before its eyes." (225)
In the essay Black Matter(s), author Toni Morrison insightfully provides the reader with a disguised context of the category "American" and sparks relevant questions as to how and why American literature was built upon the presence of the Africanistic persona. The answer to this question has become a universal truth many people tend to ignore due to fear. As Morrison says, "the Africanistic presence is a deep and abiding one that serves the literary imagination as both a visible and an invisible meditating force," and hence, cannot be forgotten or left concealed. The construction of "whiteness" was a jarring result of defining "blackness" and enslavement which not only promoted a lack of freedom (ex: hierarchy of race) but also personified a negative "not-me" image (212). "Whiteness" became an accepted norm while "blackness" became an exotic descriptor. I found this relationship between the two terms to be interesting because it seems that the opposite would have been true; "whiteness" defining "blackness." I feel in daily life, we are always asked about what it means to be "American," either directly or indirectly, and I find it hard to answer at times, especially with those two terms being placed in a lot of conversations. Being American should not only be based on race, religion, or other parts of our identity, but should instead be used as a common thread which unites all people under the name. While all those different aspects are important to our individual identities, as a global collective we should be searching for similarities alongside those stark differences to make ourselves visible together. The notion of the "new white man" was elaborated upon through racial difference, in deploring the identity of the "Other" and celebrating the privilege of "white" people. This idea has become the staple of what America should look like to the world and our country itself. However, how have people been changing that perception if not through literature? I am interested to see how we can learn from these different sources and reach a new conclusion of what it means to be "American" while highlighting diverse cultures that aided in its formation. In the end, if we only look at racism affecting the victim and keep silent, we cannot fully understand the effect it has on humanity as a whole, even today.
If I could create a panel discussing identities, it would be composed of Morrison, Locke, and Maalouf. All three have very similar and interesting outlooks on how our identities are formed and what they look like in terms of equality. Here are my questions:
What factors are important in forming one's identity today versus the past?
How do people go about containing these ideas (discussions of race, religion, etc.)? How can we set them free and allow people to be able to talk more openly about them?
How can we go about finding a common thread that unites us all with our nationalities today? Is this possible in a society that likes to highlight negative aspects of cultural diversity?
Unit 2: Stable reality
According to tradition, the Greek philosopher Heraclitus said (I paraphrase), "You can't step into the same river twice". His idea seemed to be that just as the water in a river is constantly changing, so our world—everything—is in constantly in flux, so that nothing persists for more than a moment: there is no stable reality. Has modern science confirmed this view? What do you think Plato would say in response?
Looking at numerous aspects, modern science does confirm that everything in the world is constantly in flux. Not only are paradigms unceasingly shifting, but new and diverse discoveries are found and studied every day. Humanity's growing awareness and understanding of certain topics and world-views never necessarily align with each other and can change drastically through different thought-provoking lenses (such as the discipline of science, philosophy, etc.). Each individual person adapts to situations in life and does not necessarily step back into the same viewpoint ever again (so many factors play into how we live our lives that every step we take on our journey changes the river we follow). Science definitely aids in the transitioning of reality as it relies on claims, observations, experiments, and theories to prove flux. Hence, in this view, no stable reality truly exists.
However, Plato would certainly disagree with the previous notion. He sees humanity living deep underground while being eternally chained, only knowing the reality of a shadow. Plato believes education does not actually effect our human nature or perception of reality, and instead we are drawn back to simplistic ways of living "blindly" rather than in the "light." He finds that the large discoveries we make scare us back into "blindness." In life, people are ignorant and are not willing to live outside a superficial world (personal bubble). Henceforth, people rarely step outside of the river they know well, and if they do, easily return without hesitation. Yet, there is a way people can be changed if they work together in community.
Thursday's panel had me pondering why people translate the way they do. Professor Ewington brought up many interesting points on what people look for/at when translating texts from different languages and writing styles (ex: ubiquitous v=but invisible, discourse of "fidelity and betrayal," etc.). From these discussions and panel exchanges I am wanting to come to understand a few things better: How did both Plato and Borges original meanings behind their texts change or stay the same? Are these radical translations? Can these texts ever been in harmony with each other? Will an author and reader ever see eye to eye after a translation is made? What can fidelity do for the rendering of meaning?
Unit 3: Connecting Sontag and Gourevitch
We keep watching.
Humanity looks at war from afar, as an image, rather than a real experience lived out by people who constantly suffer to find peace or seek to create chaos. Not only does this image destroy each person's individuality but also strips away their dignity as human beings. We see a shell instead of a person holding a past, present, and future. Gourevitch asks, "Who is grieving for Rwanda and really living it and living with the consequences? Who comprehends the massive amount of people who were killed, injured, and displaced in three and a half months in Rwanda?" Personal testimonies, gruesome photographs, informative news, and daily articles were consistently made available, yet the "international community kept watching" (169). In addition, Sontag states the "ubiquity of [these] photographs, and horrors, cannot help but nourish belief in the inevitability of tragedy in the benighted parts of the world" (71). She also shows how the dead cannot communicate to us their disappointment in our inaction. In reality, these images only implant "beliefs" that we have no ability to actually help because we don't associate with "them" (poor countries, people who are different, etc.) or we say it will pass in time. However, the wait is over, and both these works of nonfiction point to our flaws as citizens of nation states, our twisted innate desires to look, and our lack of recognition towards our shared humanity. These violent histories and experiences are not exhibits for our entertainment or a simple memory but a reality that haunts humanity for the rest of time. The flow along the narrative we carve out. Until we invest in everyone on Earth, war will not end. It will continue to be trapped in photograph, our "collective memory." People can no longer "hope" everybody will behave nicely in the future while continuing providing humanitarian efforts (170). In order to distinguish the difference between genocide and a "cheese sandwich," one must dig deeper inside themselves and break the picture frame encapsulating inaction. The lenses of others helped us view problems from the outside, but as Sontag and Gourevitch would agree, it is time to shatter our expectations and reach into something new that we cannot keep our eyes off of.
Let us use our hands.
"Denouncing evil is a far cry from doing good."

~ Philip Gourevitch
Unit 4: Let Freedom Ring
In John Lewis, Andrew Aydin, and Nate Powell's graphic history, "March" (Book II), some of the most pivotal moments of the Civil Rights Movement are captured through shocking images and intricate selections of real dialogue. Out of the many panels I found to be extremely moving, one large panel in the middle of the book stuck an accord with me as I continued to read the novel: Aretha Franklin singing "America (My Country, 'Tis of Thee)" at President Barack Obama's Inauguration on January 20th, 2009. The main frame is Franklin singing her heart out to a song that has been known to emulate American values and history. Smaller frames are scattered throughout the page to show pieces of past stories during the violent breakout in Montgomery, Alabama. The Freedom Riders, who risked their lives in pursuit of liberty, contrast Franklin's call to "Let Freedom Ring." The history of our nation lies in pain, struggle, and perseverance through blood, sweat, and tears. Obama's presidency was a new light in terms of American history, with him being the first African-American president to be in office. This song is not only referring to a past time of trivial acts but also aiding in brining in the new contemporary era people were positively optimistic about. Additionally, the use of the repetition of the lyrics with big text size highlights the importance of the song on that day and throughout history, as it blends together the two different time periods of this social rights movement.
The final page of the continued panel is of a hand throwing a weapon (smoke/fire bomb) at the First Baptist Church in Montgomery with the last lyric of "oh let freedom ring" written across the page. The utilization of a black background instead of a white background not only to shows how the setting turned to a dreary night, forming the mood, but also to transition towards the violence that ensued from the calmer times of today.
The transition between these three pages struck me because I never realized how this song has represented America and how the meaning of the lyrics have changed over time. Today, it represents the freedom citizens have in this country, but before it connected and divide certain people together and apart (possibly also being a rally cry) about who qualifies as having liberty and being human. I have always been fascinated with music and its power it has had on individual people, communities, and nations. The words are strong, and the way it was delivered was even stronger – I can almost hear Franklin singing the words off the page. It was a beautiful use of a transition with much power left up to the simple lyrics of a classic song.
In the end of the book there is a final image of a phone line disconnected. Freedom has not yet rung in this time period and it is evident in the violence that ensues during the Civil Rights Era. It will take people full of heart and patience to persevere and reconnect the line and let freedom ring.